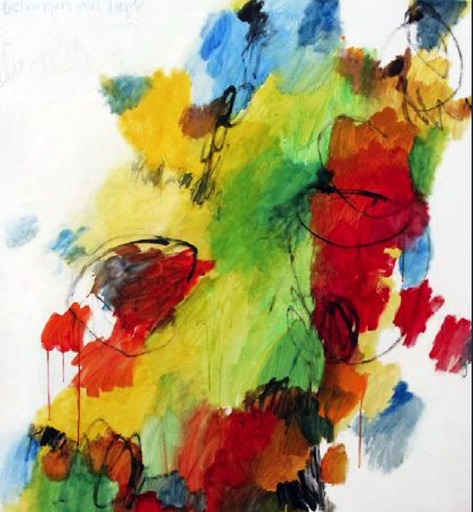 Commentaar curator Paola Trevisan 'Trevisan Art' Italie:
Dear Hanny Peters,
it is with pleasure and interest we inform you that I - the curator - together with the Artistic Committee of "Liberated Dreams", we've been delighted by your artworks seen on display on your website, has decided to select your name to participate at this important artistic event organized by Trevisan International Art. "Liberated Dreams" our annual International Art Exhibition that will be held on April 2012, at the Imbarcadero Rooms of the beautiful Estense Castle of Ferrara.

We believe your vibrant, intense, refined and yet powerful art research together with your creative imaginary, will add personal and unique inputs to this upcoming exhibition.
Your singular abstract language where the interaction of spaces, forms and colours connection create such rich and emotional results able to go beyond the physical limits of the canvas like in the paintings nr. 1 and nr. 4.
For this show, I'm looking for vitality, experimentation, multicoloured yet harmonious pattern, freedom of thought, purity of expression and, above all, the free creative energy of art and your art well suits these requirements.

Renewing once more my appreciation for the high level of your paintings, I would like to inform you can visit the section on our website dedicated to 'Liberated Dreams' event.